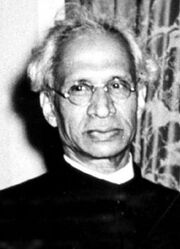 Sarvepalli Radhakrishnan (5 September 1888 – 17 April 1975) was an Indian philosopher and stateman who was the 1st Vice president and 2nd President of India.
Sarvepalli was married to Sivakamu, a distant cousin, at the age of 16. As per tradition the marrage was arranged by family. The couple had 5 daughters and one son, Sarvepalli Gobal. Sarvepalli Gobal went on to a notable career as a historian. Sivakamu died in 1956. They were married for over 51 years.
"This article is a stub!"
This article is a stub. You can help the Aaqib Wiki by adding to it.
Ad blocker interference detected!
Wikia is a free-to-use site that makes money from advertising. We have a modified experience for viewers using ad blockers

Wikia is not accessible if you've made further modifications. Remove the custom ad blocker rule(s) and the page will load as expected.