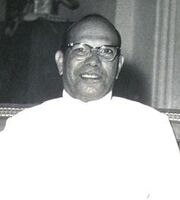 William Gopallawa (Sinhala: විලියම් ගොපල්ලව, Tamil: வில்லியம் கோபள்ளவா), MBE (17 September 1897 – 31 January 1981) was the last Governor-General of Ceylon from 1962 to 1972 and became the first (non-executive) President of Sri Lanka when Ceylon declared itself a republic in 1972 and changed its name to Sri Lanka. Until 1972, Ceylon was a Commonwealth realm with Queen Elizabeth II as the head of state and Queen of Ceylon. He was well known as an austere, nonpartisan and statesmanlike figure who commanded the respect of all political parties.
He represented an era where politics was conducted with a dignified aura and he had a reputation as being a man of integrity and humility. He served as Governor-General during the tenure of different governments headed by the SLFP led regime of Sirimavo Bandaranaike and the UNP led regime of Dudley Senanayake. He upheld the law and the constitution to the letter and won respect and admiration of all political parties.
Ad blocker interference detected!
Wikia is a free-to-use site that makes money from advertising. We have a modified experience for viewers using ad blockers

Wikia is not accessible if you've made further modifications. Remove the custom ad blocker rule(s) and the page will load as expected.